Day 2 - Onwards and Downwards
Posted by Lynne - 19:00 on 15 July 2012
Another great day of digging. Both trenches were fully up and running today - work continued in cleaning up the trench on the mound to reveal the tumble of stones in all their glory and a fascinating spread of smaller stones across the rest of the trench.
Trowelling back over the smaller stones. The tumble of larger stones.
It is still early days to say what these may be; perhaps there was once a building or constructed surface? Hopefully time will tell. Our volunteers also started to come across an area of darker soil with flecks of charcoal which is exacty where the geophysics suggested an area of burning may be. Exciting stuff!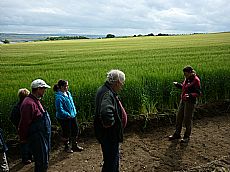 In the field trench across our old roadway we have been peeling back the plough soil left by the digger. This seems to dive down over where we would expect the road to be, so we will chase this down further tomorrow, hopefully to reveal the edges of the roadway!
Other highlights today have included chocolate cake, local strawberries, and 'waterproof-jacket-hokey-cokey' as we attempted to keep up with the alternating light showers and blazing sunshine!
Your Comments
Comment by Mish ;P at 21:25 on 15 July 2012.
Tell me about the alternating weather! I've given up on the 'hokey-cokey' and just went for 'meh, skin dries quicker than clothes I'll stick with my T-shirt.
Can't wait to read the next installment, to see what you guys discover :)
---
Add your comment below
Recent Blog Articles
Monthly Blog Archive
Sign Up to ARCH E-news