Flint knapping workshop [Inverness]
organisation:
20 January 2018, Starts: 10:00, Ends: 16:30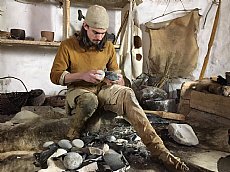 Flint Knapping Workshop

Inverness Library, Farraline Park (near the bus station)

James Dilley from University of Southampton will show how stone tools were made in prehistoric times.
10-12, 1:30-3:30: drop in talk and demonstration
12-1 & 3:30-4:30 try your hand at flint knapping (limited places, for over 14s, sign up on the day)

Children welcome with adults. Free!
Part of ARCH's Experimental Archaeology: Learning about Technologies in the Past funded by Historic Environment Scotland and the Heritage Lottery Fund. For more information about the project click here.