Day 10
Posted by Cait - 18:58 on 20 July 2011
Oh we have been lucky – another rainless and very active day on the mound and in the barley field as we spent most of the day preparing to, setting up tapes and poles for and then drawing, to measured scale all that we have uncovered so far.
Planning – the process of drawing to scale exactly what can be seen when we look down into our trenches – is the process of preserving by record an exact replica of each new archaeological layer, or context, before we remove it in order to get further down and further back in time on the site.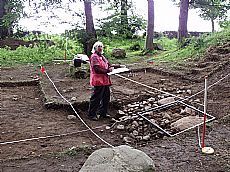 As we remove each strata of archaeology we record it precisely so that what we necessarily destroy, in order to understand the make up of the site, can be replicated by putting together our scaled drawings and overlaying them in sequence. Every time we excavate a layer off the site we build another layer of plans, so that as the site goes down, our drawn plan layers increase in height.
We have discovered some nifty draughts people in the team – keen eyes spotting every change in soil colour and change in gradient, a really valuable skill on any excavation.
Those who weren't planning were also fully active with, yes, you guessed it, more troweling, and some excellent cleaning back of the Sondage (or, Trench-within-a-Trench) at the Western extent of Trench 2 in the Barley Field has revealed a stony concentration that looks very likeploughing disturbance of a buried stone surface and is an encouragement to us as we continue to explore the possibility of a relict route making its way to the SSE of Cnoc an Teampuil. We've also managed a crafty wee test pit outside the trench area on the top of the mound - more on this to come!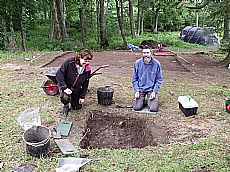 We have also been able to spend some time stabilising (cleaning and drying) the assemblage of finds and some clever and patient work her has given us more insights into the material culture being recovered from the very latest occupation and use of the site. This has included clarifying facets on all of our musket balls, indicating that all three were once fired and more definition of the incised stamp on the copper ingot – making it easier for an expert eye to perhaps identify the stamp and propose a date and an origin for this intriguing wee piece; some military bullion maybe?
This post-excavation work (the continuing examination of what has come out of the ground after it has been recovered from the trenches) is invaluable and will continue after the excavation has completed, for sure – if you are interested in finding out more about this and in getting involved we will be running courses in the autumn, using the finds and other recoveries from this dig to learn more and to develop the interpretation of the site.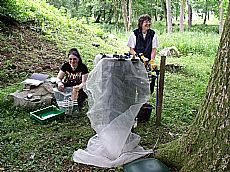 Post excavation has also begun on the environmental samples that we are taking of each new context uncovered. These sediment samples are being floated and vibrated through a series of fine meshed sieves in a flotation tank on site. The heavy soil drops to the bottom of the tank and lighter (floatable) organic material such as seeds, grains, charcoal and fragments of bone and shell is floated up and captured for further analysis. This material can tell us a lot about the food that people grew, processed and ate at the site and, if we get some useful charcoal samples for radiocarbon dating, may also tell us when they were doing this.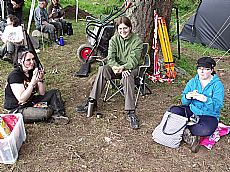 So, as you can see, our day has been busy and diverse, but, worry not, we still had time for teabreaks and some exploration and sampling of some particularly fine doughnuts that 'appeared' on site this morning… We might have to continue studying these a little further tomorrow. Do come back and take a peek then to find out more about these and our other findings as we get closer to our final days for this season at Foulis Mound.
---
Add your comment below
Recent Blog Articles
Monthly Blog Archive
Sign Up to ARCH E-news