Day 12
Posted by Cait - 20:36 on 22 July 2011
Goodness, can you believe it, here we are already only two days to go of this the first ever ARCH Delve into the Past Dig, and the first ever known excavation of Foulis Mound and possible Relict Routeway!
Today we continued to record the site's various interesting features, in a whole variety of ways, including continuing to conduct our 3-D Total Station Survey of the Mound and environs and, a new one for this season, taking levels on the sondages and test pit in Trench 2, our exploration of the possible projection of the routeway that we believe connects Foulis to an early communications network traversing Easter Ross, from the Beauly to the Dornoch Firths.
Using theodolite to read measurements on a specially constructed vertical staff 'ruler', Ellen and Rosemary took readings at 1 metre intervals along the sondages that will enable us to identify even the smallest differences in height – dips and bumps – that could indicate whether we are working on the buried remains of a metalled (or made up and level surface) of an early 'road'. We might even be able to assess whether we have also picked up the tell-tale rise and fall of roadside embankments. This sort of recording is vital, as we are working in a cultivated area, where we cannot find the above ground remains as these are likely to have been ploughed away. It's going to take a while to process these finding (the maths bit takes a while), but we are sure they will be enlightening.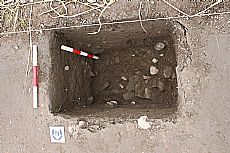 Allan continues to go down and down into the Test Pit that we have put in opposite Sondage Y, in this proposed routeway trench. Interestingly, he still hasn't bottomed out (hit an entirely natural surface) yet! A surface of river cobbles and fragmentary stone continues to be visible, and, most importantly, the matrix – that is: the soil that holds these stones – still has lenses of lovely, dark, brown loamy silt (an archaeologists' dream – if there is any archaeology to be found it will be in these lovely, organic rich layers).
Further Test Pit news: at the mound, Bob and Ellen continued to clean back Test Pit 3, before recording it by photographing it and drawing all those lovely 'rubbular' stones to scale in a measured plan. We like these stones because they are indicating a few things. Firstly, that there is a voidy area right there at the top of the mound – the stones are collapsing and spreading into this hollow ground. We are beginning to feel confident that we are not simply cleaning back a glacial mound, but that there may be some interesting activity underlying this rubble – again, another indication of archaeological possibility, as wherever there is a cavity and a deposit (the void and the stones) we start to look for the signs of human intervention in the past (building collapses, the depositing of stone and spoil, levelling of ground).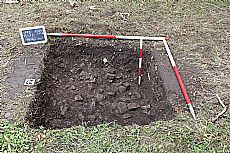 It is too early to place absolute interpretations on these events in the earth – you will simply have to join us next year to help us develop these – but we do know that we want to investigate more in this area.
And, speaking of 'rubbular' deposits – do you remember that cobble spread over the big boulders at the base of the mound? Today, Martin and Bob have started to half section this mass, carefully taking half of it down layer by layer, so that we can all watch and understand what is happening in each layer, both as it comes out of the trench on one side and by looking at the remaining vertical section on the other – it's like going down in a glass fronted elevator, seeing the strata emerge layer by layer. They will be recording this vertical section tomorrow – photographing it and drawing it, adding this wall of archaeological activity to our developing understanding of this feature of the site. So far, we are able to see that all those cobbles appear to have been a superficial deposit, thrown in over the bigger boulders and, helpfully delineating the dip and curve of what might be a ditch cut – but, we'll hold back on saying too much more on this until we see more of the section emerge – keep digging deep lads!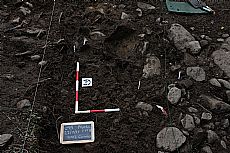 Join us tomorrow to hear about how we get towards retting things up in advance of Sunday's BIG Backfill Bonanza… And, keep all those fingers crossed that the rain continues to steer clear of the particular corner of Mid-Ross.
---
Add your comment below
Recent Blog Articles
Monthly Blog Archive
Sign Up to ARCH E-news