Day 3 - Foulis Mound and Early Roadway Excavation
Posted by Cait - 21:33 on 11 July 2011
Oh dear, another night and morning of rain in Easter Ross! However, this didn't quite stop us in our rather muddy tracks… Anyone involved in Highland archaeology will understand that we simply can't give in to a few droplets… Though the raging torrent that the Foulis Burn trickle had become, after last night's deluge, did cause us to wade cautiously towards the mound!
For anyone who had doubted the likelihood that the Foulis Mound may at some time in the past have operated as a control point overlooking a water crossing –the reality that past occupants may have used the challenge presented to both travellers and prospective marauders as an opportunity to collect taxes / tribute and defend a boundary, seemed all too obvious.
For those of you waiting with bated breath to hear about our gazebos – they survived everything the elements threw at them and we returned to a Trench 1 much protected from splashes and further puddling.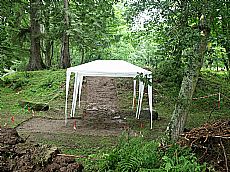 Things still need to dry out over at the mound and so we took the opportunity and the clearer skies that the mid-morning brought us to open up a 2m x 20m transect across the proposed route of what we believe is an early roadway that passes alongside the mound and castle sites.
De-barleyed (!) and hoed back, the trench has not quite got down to anything like an archaeological layer, just yet, but, we spent much time discussing the varying feels of compacted and loose soils under our hoes and believe that we have definitely identified the tractor tracks and trampling route made in the Spring when Hector and Fininan last cultivated the field. Every discovery in this living landscape gives us insights into the ways in which people have been living, working a moving through this mid-part of the Easter Ross littoral, perhaps, for millennia.
Tomorrow promises clear skies and sunshine and we look forward to welcoming all those who weren't able to make it today back onto site, ready for more interesting investigations and more exciting discoveries. Can't wait!
Your Comments
Comment by Lizzie McD at 11:45 on 12 July 2011.
Dylan was quite impressed with the finds you showed him !particularly the musket balls....as we walked back to the car I asked him what he thought the Mound was used for and he said he thought it would have been a trading point , where people came to trade food and goods ! which seemed an interesting idea ...we very much enjoyed our visit to the site yesterday afternoon, and I am looking forward to Saturday ,Best of Luck
---
Add your comment below
Recent Blog Articles
Monthly Blog Archive
Sign Up to ARCH E-news