Day 5
Posted by Cait - 22:42 on 13 July 2011
Yes, Day 5 already!
More sun, sun, sun today, which has ensured that both of our trenches have had a good old dry-out and we have been able to clean back with hoes and trowels to reveal some very interesting features in Trench 1. The real eye-catcher has been what we are interpreting as a ditch cut at the base of the mound slope on the east side. The cut is made most distinct by the appearance of a tumble of cobbles and some larger stones, slumping into the void where we imagine the ditch hollow to be. The cobbles seem to have been laid into the morass filling the ditch (a silted up moat?); perhaps a causeway to keep crossing feet dry?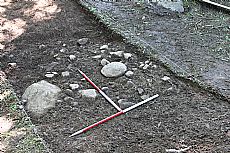 Cleaning around the stones (and over the stones with a brush) helps us to see just how the cobbles are distributed and gives us an insight into the nature of their deposition - a collapse from above or a roughly laid pathway? We are still deciding and so a half section through the feature will, we think, be the next step here - giving us a window into the interior of the rubble, whilst still enabling us to see any emerging stratigraphy as we dig in.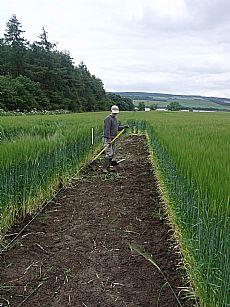 Trench 2, in the barley field, was bathed in sunshine as we mattocked down into the 30cm of plough-zone in the two opposing sondages (trenches-within-trenches) that we have placed at the eastern and western extents of this 20m x 2m trench. These 1m wide half sections of the trench will give us a window into the layers emerging throughout the trench and, because they are on opposing side, will give us comparative views of the picture on either side of the trench as we go - a bit like having a split-screen shot of the trench. Here we are hoping to pick up the tell-tale stratigraphy of an early roadway - a rarely dug feature type and so we expect, that like us, you will be eagle-eyed, watching for even the most tiny changes in context as we look for signs of trampling and road make up by layering of earth, sand and / or stone... We'll certainly keep you informed.
A well-earned day-off tomorrow... Find us again on Friday with trowels and shovels in hand ready to discover more about the landscape and past lives of Foulis.
---
Add your comment below
Recent Blog Articles
Monthly Blog Archive
Sign Up to ARCH E-news