Day 6
Posted by Cathy - 19:09 on 15 July 2011
Hi all,
Another sunny day despite the forecast and we got straight to work on trench 1, energised after our day off. The top of the mound (Area C) has started to show a spread of larger stones which are becoming clearer and more widespread as we trowel down. A piece of metal working slag and a small steatite stone from this area signalled the first finds of the day. Once we have planned and cleaned back even further hopefully we will be able to identify an edge to this context and determine what type of feature it is.
Meanwhile, at the bottom of the mound in Area B a day of dry weather had shown up our concentration of stones nicely. Allan and Martin cleaned between the stones throughout the day to reveal more substantial stones underneath and a clearer extent of our possible ditch. Tomorrow area B will be ready to record in a plan drawing before we dig any deeper.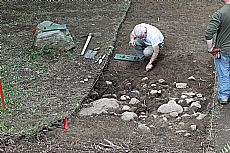 The total station coverage survey continues - only about a third of the mound slope to go and we will have enough points for a 3D model of the site showing any lumps and bumps covered by thick vegetation that we might have missed.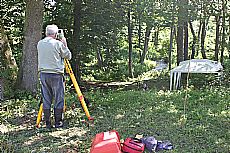 Meanwhile in Trench 2 the sondages continue to go down with our newest member Donald finding a piece of metal working slag similar to the piece found earlier in the day in trench 1 area. We are still in the disturbed plough soil so no sign of the routeway yet!
The trenches have been covered over in tarps tonight to try and keep them dry for tomorrow when we hope to plan the areas cleaned off today. Its the open day from 11.30am – 3pm so bring your friends and come to see the finds and the features found so far. Local artist Lizzie McDougall will be on site providing art workshops so fun for all ages guaranteed 
---
Add your comment below
Recent Blog Articles
Monthly Blog Archive
Sign Up to ARCH E-news