Day 9
Posted by Cathy - 19:14 on 19 July 2011
Hi all,
We were back at Foulis today for the final haul after calling off work on Sunday due to soggy trenches and another day off on Monday.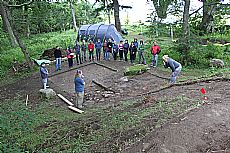 In Trench 1 we cleaned back all the surfaces in Areas A, B and C and the Area B extension to define our features clearly. Some low light (otherwise known as general gloominess) helped us define spreads of redeposited material in Area C. Planning (drawing the stone spreads and context boundaries from above) began in Area C and will be completed tomorrow in preparation for digging further to explore the stony spreads.
The cleaning of Area B went slower with lots of individual stones to clean around and a much deeper deposit to clean in the extension. Good progress was made and planning will commence tomorrow so we can record and half-section the stony spread.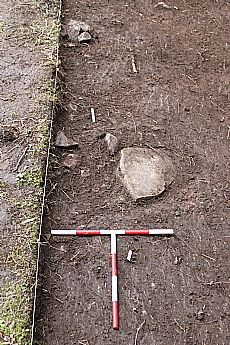 Meanwhile in Trench 2 the spread of interesting stones has been cleaned to plan tomorrow. Two small test pits were excavated in opposing ends of the trench to test the depth of potential features and the natural. These were planned today and some kubiena samples were taken to provide further information on the micro-morphology (tiny layers) of the soil.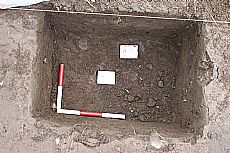 So its going to be planning central tomorrow so we can get back to the digging for the final stretch before the end of the dig!
---
Add your comment below
Recent Blog Articles
Monthly Blog Archive
Sign Up to ARCH E-news