Boundaries Objects Project
ARCH is working with the Boundary Objects Project (BOP) to research and then tell the stories about graves and gravegoods in the Highlands. BOP is a collaboration between Universities of Reading and Manchester in partnership with National Museum of Scotland and Historic Environment Scotland, building on the Prehistoric Grave Goods Project which ran from 2016-2020. The Highlands will form one of their case study areas.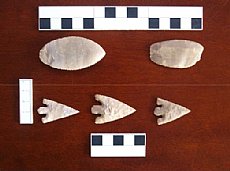 There are many fascinating stories to tell, such as the Neolithic individual buried in a Caithness chambered cairn with an arrowhead embedded in a vertebra; a wealth of Bronze Age examples including male archery burials and the individuals buried in a ritual landscape at Armadale, Skye; the Iron Age man buried sitting up at Crosskirk broch; the brutally killed man buried in a cave near Rosemarkie; the Balnakeil Viking burial – boy or man?; and the strange Medieval burial at Portmahomack where a man was buried with 4 extra skulls. These and others all deserve more attention!
Volunteers are now researching some of these stories, which will then appear on Canmore beginning April 2022, as part of their Insight series. Some will also be submitted to Highland Regional ScARF as new case studies. Researchers have been meeting for a monthly 'Ancient Death Café' to share and develop their ideas.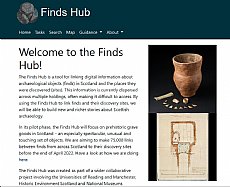 As part of the project, a pilot scheme to link finds information with burials has been set up at https://finds-hub.org. The National Museums of Scotland are allowing access to their data, and volunteers are helping to help link the information about finds to the site records in Canmore and the HER. This is a very useful resource, and it is hoped it will continue after the BOP project finishes in April 2022.
ARCH has also been working with volunteers to create trails in Dunrobin Castle Museum on a variety of themes: Grave goods, Life in the Age of Skara Brae, Stone Axeheads, Life in Iron Age Brochs , Finds from the Castle Grounds, Littleferry, and Curiosities. These are linked in places with QR codes to further information. These will launch over the summer – further details to follow.
More about BOP can be found at https://blogs.reading.ac.uk/grave-goods/boundary-objects-project/
Site of the Month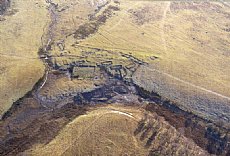 10/04/2021 - Easter Raitts township
Easter Raitts township Photo: Highland HER Although the Highlands is dotted with de... More >>
Find of the Month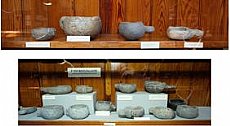 25/07/2022 - Steatite Vessels
These stone vessels, many with handles, were found at a variety of sites in Sutherland and... More >>
Sign Up to ARCH E-news