Crafting Day October 2018
Posted by Susan Kruse - 13:44 on 11 October 2018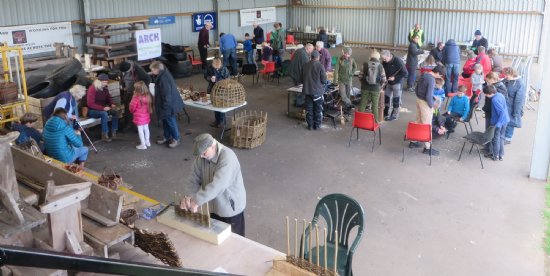 Our final Experimental Archaeology workshop was held on 6th October at the Black Isle Showground in Muir of Ord. The large venue allowed us to have four activities on the go: two new workshop leaders (basket making with Monique Bervoets, flint knapping and using flint tools with Peter Bye-Jensen), and the return of two earlier workshops (green woodworking with Lachlan McKeggie and striking lead seals with Ian Hammond). It was a busy day, with many people staying hours.
Monique brought a number of baskets to show, many for specialised uses. Although the earliest complete basketry we have is 2000 years old, people must have been making baskets from earliest times. The techniques were also used to make hurdles, necessary for crop protection and used in house construction. People were able to help make hurdles and two baskets for the loans box.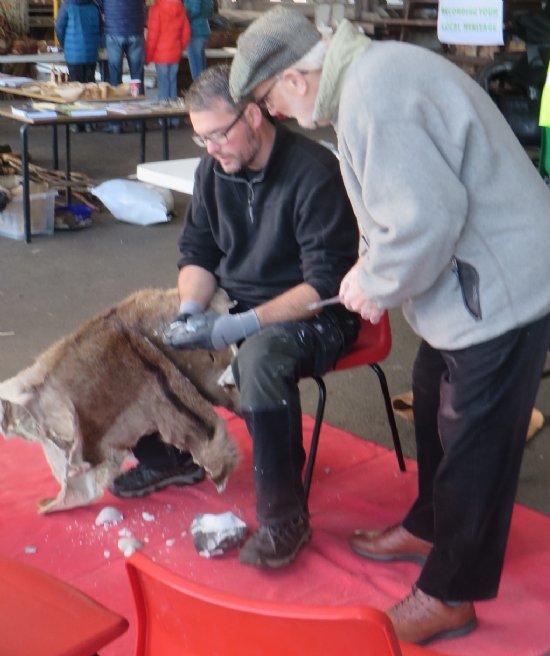 Peter demonstrated flint knapping techniques, and also encouraged people to try using the resulting flint tools to cut and shape some green wood. He also had some illustrations showing use-wear analysis which he has done on some genuine artefacts.
For this workshop Ian unveiled a set of dies and seals made from them reconstructing a find from Cromarty of lead seals on cloth imports from Russia. As he explained, this was not a simple process. He first had to make punches to produce characters from the Cyrillic alphabet and other decoration. Then these punches were used to create the patterns on the dies. Only then was it possible to produce the seals. The activity proved as popular as before.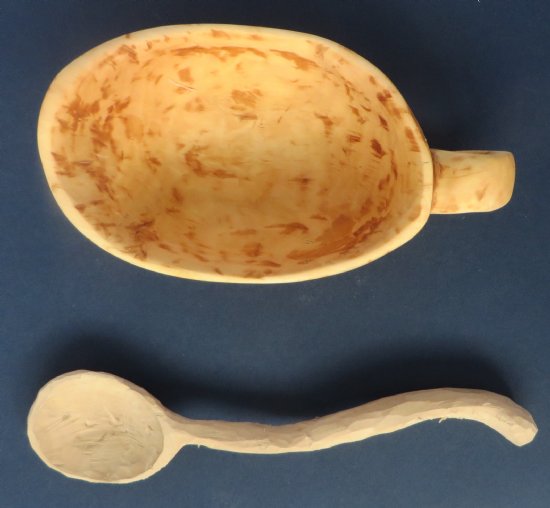 Lachlan also had a busy time, with people of all ages producing mushrooms/pegs and having a go at other working. He also showed the articles he has made for the loans box: a wooden cup and a spoon.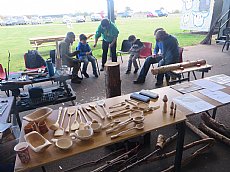 Resources:
See previous blogs for flint knapping, green woodworking and lead seals
Basketry resources:
Websites
Woven Communities. Basketmaking communities in Scotland
The website discusses regional traditions in Scotland, an illustrated discussion of basket types, museums with good collections, histories, how to make various baskets and much more. Recommended.
ScRAN Pathfinder on basket weaving
Links to a number of resources on the ScRAN website
Scottish Basket Maker's Circle
Membership organisation promoting basket making. Links to courses, and with a good on-line library.
Selected Articles
ScARF 2012 '4.4 Organics. Plant Fibres', in Downes, Jane (ed), Bronze Age Panel Report, Scottish Archaeological Research Framework: Society of Antiquaries of Scotland. Available online at scottishheritagehub.com/content/44-organics
Thornton, Jonathan 2016. Cooking in Baskets using Hot Rocks. Published on ExARC.net
Museums with good collections
Highland Folk Museum (see Woven Communities website). The Museum also has blogs on conserving baskets in their collections
Images
A number of old photos from the late 1800s/1900s show baskets. See eg on Scran
Fife fisherwoman 000-000-573-448-R
Panniers on ponies in Shetland 000-000-003-905-C
Travelling folk making baskets at Grantully, Perthshire 000-000-039-562
ScRAN also has a picture of a Roman hat from Newstead, Roxburghshire (now in the NMS) made with basketry techniques 000-100-037=355
Videos
Man weaving baskets
Short video on ScRAN
.29
Da Makkin o'a keshie
Film by Jenny Gilberton made in 1932 where a crofter in the Shetland Isles demonstrates how to make a 'keshie' to carry home his peat.
5:15
Monique's Bervoit's website http://www.willowweaving.com
The Experimental Archaeology: Learning about technologies in the past project has been funded by Historic Environment Scotland and the Heritage Lottery Fund.


---
Add your comment below
Recent Blog Articles
Monthly Blog Archive
Sign Up to ARCH E-news