Rosemarkie, Fortrose and Avoch in World War I
In autumn 2017 and early 2018 ARCH provided facilitated sessions for Groam House Museum's project investigating World War I activity in Rosemarkie, Fortrose and Avoch. Well-attended sessions were held to research what happened in these communities during WWI, and to identify those from the communities who served elsewhere. The latter included soldiers of course, but also ministers, nurses and a number of women from Avoch who worked for Boots the Chemist in Nottingham or at munitions factories in England. We also invited information and photographs from families who had relations who had been involved in wartime activity.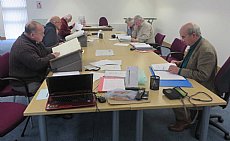 The local newspapers were a major source of information, both on what was happening at home and for military personnel abroad. The road network was under severe strain, because troops and equipment came by train to Fortrose and then went by road to Cromarty. As the war went on, food production became a major issue, with the competing needs of men for harvest and the military. Rationing bit. There was constant fundraising for wartime charities and Women's War Work Parties knitting socks and sewing other items for troops abroad.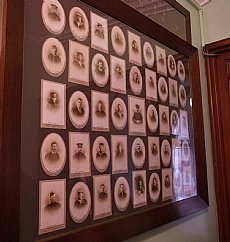 Simply compiling a list of men from the area who served in the war was not altogether straightforward. We have a 'Roll of Honour' for 1914 and early 1915 published in Souter's directory, and a useful plaque with Church of Scotland Parish of Avoch soldiers. We have names of those who died, compiled from the war memorials (four in Avoch including the one pictured to the right with photographs), two in Fortrose and one in Rosemarkie), together with accounts in the Ross-shire Journal and information on the Commonwealth War Graves Commission website. But we know we have missed some who joined after 1915 and survived the war. Binders with pages for each person will be deposited in Groam House Museum and Fortrose library, and can be added to when new information becomes available.
Two new findings emerged from the project. Detachments from the Highland Cyclist Battalion were stationed in Fortrose throughout the war. Despite the name, the battalion was not from the Highlands, being based mainly in the Central belt. The men provided patrols and communications in a number of areas. We have not located archives for the battalion, but no other information we found notes their presence in the Highlands. They were billeted in the Black Isle Combination Poorhouse, and photographs in Groam House Museum's collections show a cyclist battalion, though we are not sure where.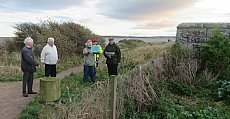 Two photographs on the Imperial War Museum website show a searchlight facility and gun emplacement on Chanonry Point. Archive information from the National Archives in London show that this is part of increased defences arising when the U.S. Navy in early 1918 started to assemble mines which were then deployed between Orkney and Norway – the co-called Northern Barrage. A Signal Station was also built above Avoch at Castleton, to mirror signals from Fort George for ships in the firth. What was not known before was that a boom was built between Fort George and Rosemarkie to control access into the Firth as added protection. So far no remains have been found.

As part of the project we met with other local heritage groups and museums who also had an interest in WWI in the area, with visits to Cromarty Courthouse Museum, Highlanders Museum in Fort George, Petty and Ardersier Community Heritage and Inverness Local History Forum. We also had members of Fortrose and Rosemarkie Local History Group come to our session and tell us about their work. Making connections with other groups was one of the important legacies of the project.
The results from the project will be drawn together by participants to form an exhibition at Groam House Museum opening on 18 May 2018. Binders of information will be deposited at the Museum and at Fortrose library.
Latest News...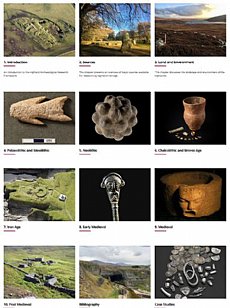 23/10/2023 - New ARCH Course: Highland Heritage - from Flint Scatters to Farmsteads
With the publication of the Highland Regional ScARF in 2022, an up-to-date overview of Hig... More >>
Site of the Month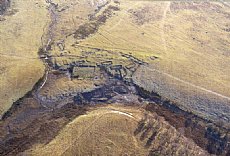 10/04/2021 - Easter Raitts township
Easter Raitts township Photo: Highland HER Although the Highlands is dotted with de... More >>
Find of the Month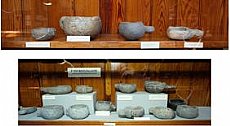 25/07/2022 - Steatite Vessels
These stone vessels, many with handles, were found at a variety of sites in Sutherland and... More >>
Sign Up to ARCH E-news