Highland Family Heritage Festival 2014

Everyone is invited to take part in the past in Dingwall Academy on Saturday 26 April when Archaeology for Communities in the Highlands (ARCH) is hosting a free family festival celebrating Highland community archaeology. Running from 10.00am to 4.00pm, there will be a packed programme of activities that includes speakers and stalls from across Highland.
Confirmed groups and activities below - more to be added as they confirm!
The festival will have

(any marked with an * should be booked, either by emailing events@archhighland.org.uk or phoning 01349 868230. If phoning, leave contact details on the answerphone.)

* Do you have what it takes to be a Viking?
Join with Thorstein the Red and his wife Thurid on a Viking adventure: long-ship race, weapon training, name calling, rune writing, spinning, stories & more - maybe even a raid. For ages 7-11. 10:30-11:30am. Booking essential
Rubbish Game
We all know what sort of items become rubbish today - but what do they tell us about how we live? And how might we use the same methods to understand the past? 10:30-11:30am. For all ages
* Picturing the Pictish Past
Explore what we can learn about the Picts from their sculpture. 11:30-12:30. All ages. Booking essential.
Roots and Flutes
The sounds and stories of the world's earliest musical instruments - including stones, shells, horns, panpipes and flutes. Bob Pegg plays these instruments, and many more. Be prepared to be surprised. 11:30-12:30. All ages
* Eric the Dead
Join Lynne & Lachlan McKeggie looking at Viking burials. What was important to the Vikings? How might we recognise a Viking burial? . 12:30-1:30 or 2:30-3:30. Ages 6-11 (children must be accompanied). Booking needed.
* Pictish Art Workshop
Join Lizzie McDougall to make a wee wall hanging inspired by Ross-shire's beautiful Pictish stones. For all ages, but under 7s must be accompanied. 1:30-2:30 or 2:30-3:30. Booking essential

The Magic Monster Bear - stories, music and song inspired by prehistoric times
How did our ancestors entertain themselves round the fire, after a meal of roast boar or venison? Bob Pegg thinks he may have the answer, with tales and songs of wolves, selkies and hunters, together with the sounds of bull roarers, the deer bone flue and clay pot drum. And - of course - the sotry of the Magic Monster Bear! 1:30-2:30. All ages.
Meet Sir Andrew de Moray, and find out about life in medieval times. All Ages. 12:30-1:30 or 2:30-3:30.

Making Medieval Helmets
Sir Andrew de Moray will help you make your own medieval helmet. For children. 11:30-12:30. Booking suggested.

* Internet maps
Scotland has a rich tradition of maps, many of them easily available on the internet. Come explore. 11:30-12:30. Limited places, so booking needed.
Building a Bender
Join George Grant of YAC, and help build a bender outside. Throughout the day.
Basket making
Susan Finlay will help you learn how to make willow baskets. Throughout the day.
Bronze Age pot making
Robin Palmer will help you make a Bronze Age pot. 10:30-12 or 1:30-3
Plane Tabling
Join Anne Coombs of NOSAS for an introduction to this surveying technique. 1:30 outside.
* Making felt for beginners
Susan Fraser will show you how to make felt. 10:30-11:30 or 2:30-3:30. Bring a hand towel if possible.

Textiles
Lynne McKeggie will help you make a variety of crafts using ancient textile skills. At various times throughout the day.

Making rope and lead seals
Ian Hammond will show how rope was made, and lead seals created, based on finds from Cromarty. 10:30-11:30 and 1:30-2:30.

Stone Carving
Historic Scotland's master stonemasons display their craft. Come watch and ask questions. Throughout the day.
Green woodworking
Stig will provide a general greenwood demonstration with shave horse and pole lathe, and display of wooden spoon carving.
Spinning
Demonstrations by the Highland Guild of Weavers, Spinners and Dyers.

Suffrage in the Highlands.
Very little is known about suffrage activities in the Highlands - but there is lots to discover. Talk by Susan Kruse. 12:30-1:30
Short talks in front of displays.
Timetable to be posted on the day.
Tour of the local history and archaeology collection in Dingwall Library 1:30-2:30

Museums including Groam House Museum, Inverness Museum and Art Gallery, Culloden Visitor & Battlefield Centre, HistoryLinks, The Highland Museum of Childhood, Strathnaver Museum, Gairloch Heritage Museum, Clan Donald Skye/ Museum of the Isles

Local and regional groups including ARCH, Highland Council Historic Environment Team, NOSAS, UHI Centre for History, Aberdeen University, Highland Family History Centre and Archives, Fortrose & Rosemarkie Local History Group, Raasay Heritage Trust, WEA, Highland Guild of Weavers, Spinners and Dyers, Clyne Heritage Society, Highland Family History Society, Rogart Heritage, Comunn Eachdraidh Shleit (Sleat Local History Society), Inverness Young Archaeologists Club, North Kessock and District Local History Society
Projects including People & Trees project (Woodland Trust), WEA Suffrage project, Boblainy Forest Community Archaeology Project, My Heart's in the Highlands project, Partnerships for Wellbeing - Step It Up Highlands

National organisations including Forestry Commission, Historic Scotland

Various organisations are bringing short films and slide shows. Timetable to be finalised on the day.

Books, bread, baskets...
Site of the Month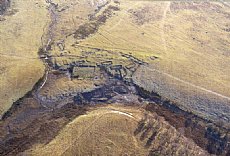 10/04/2021 - Easter Raitts township
Easter Raitts township Photo: Highland HER Although the Highlands is dotted with de... More >>
Find of the Month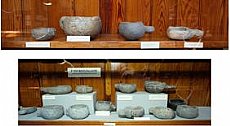 25/07/2022 - Steatite Vessels
These stone vessels, many with handles, were found at a variety of sites in Sutherland and... More >>
Sign Up to ARCH E-news