ARCH and Highland Archaeology Festival
31 May 2016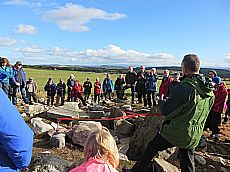 ARCH is delighted to report that we are now organising the Highland Archaeology Festival on behalf of Highland Council. We are quite excited by this opportunity! For many of us HAF is the highlight of the year, and we look forward to helping it to grow even larger. This year the festival will run from 1-16 October, with the seminar 15-16 October, all showcasing Highland Archaeology from earliest times to recent past.
The festival's success relies on organisations, museums, individuals and projects offering events during the festival, and we do hope Highland organisations will respond this year! There are also some new features planned including:
a dedicated website
keynote talks to open the festival (by Richard Oram on the 30th September) and on Friday 14th October (by Rod McCullach)
an afternoon of workshops at Council Headquarters on Friday 14th October
a Highland Artefact Trail to look at featured objects in museums. There will be a passport and the person with the most stamps wins a prize.
Poster sessions for groups at the Seminar
More information to follow!
A call is out now for all Highland museums and organisations to offer events during the fortnight. The deadline to get into the printed version is June 24th. If you have any questions or want to talk through some ideas, do get in touch with us on highlandarchaeologyfestival@gmail.com or 077888 35466!