HAF Photographic Competition
09 July 2017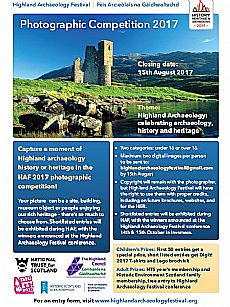 New this year is a HAF photographic competition – a chance to submit up to two photos which celebrate Highland archaeology, history and heritage, from earliest settlers to modern times. It could be a picture of site, a building, an object or people enjoying Highland heritage.
There are good prizes on offer for adults or children:
DigIt!2017 has supplied chocoloate brochs for the the first 50 children's entries and T-shirts and broch lego kits for the 7 shortlisted entries.
For adults, the National Trust for Scotland and Historic Environment Scotland have each donated a year's membership, and Highland Council offers free entry to the HAF conference in October.
Shortlisted entries will be displayed during Highland Archaeology Festival, with the winners announced at the conference on 14th October.
Deadline is 15th August, so think about snapping a picture over the summer. Details and forms are on the HAF website or contact ARCH on 077888 35466.