Nov. & Dec. experimental archaeology workshops timetabled
05 November 2017
The next two workshops in ARCH's Experimental Archaeology project have been timetabled: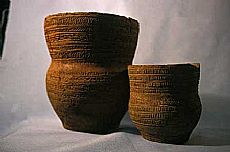 Bronze Age Pottery
Saturday 18th November, 11-3 Dingwall Community Centre
Pat Gulliver will lead this workshop exploring Bronze Age pottery techniques, especially on decorated beakers. Good public transport and plenty of parking! Learn how Bronze Age potters made their pots, and have a go yourself.
Textiles through the Ages
Saturday 16th December, 11-3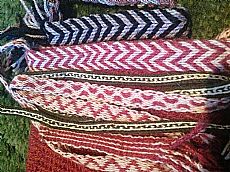 Spectrum Centre, Farraline Park, Inverness (near the bus station)
Explore textiles through the ages with Lynne McKeggie and try your hand at drop-spinning and tablet weaving. Find out some of the mysteries of archaeological textile tools.
No booking necessary – drop in sessions.
Children very welcome if with adults. Free!
The project will have monthly workshops exploring a range of craft production from Mesolithic to modern times. Coming in 2018: flint knapping, Bronze Age metalworking, Pictish carving, Iron Age bone working, making Viking ring money and medieval coinage and much more. For further information or to be put on the mailing list, contact ARCH at info@archhighand.org.uk or 077888 35466.
Experimental Archaeology: learning about technologies in the past has been funded by Historic Environment Scotland and the Heritage Lottery Fund.