Samian Pottery from Dun Flodigarry, Skye
01 July 2020
News Type: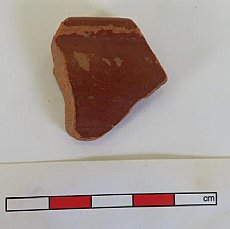 This sherd of pottery was found during excavations of a Complex Atlantic Roundhouse (broch) at Dun Flodigarry, Skye. There were few finds from the excavation in the 1980s, but included sherds of coarse locally made pottery and this sherd of Roman Samian ware. The sherd, together with old radiocarbon dates suggest occupation in the early centuries AD.
Although the Romans probably did not personally reach the Highlands, or if they did, would only have been a passing encounter, a number of Roman finds are known from the Highlands. These include coins, pottery (mainly Samian), personal ornaments (mainly brooches), feasting items (including a set of serving bowls and strainers from Helmsdale), glass vessels, and exotica, such as a terracotta model of a bale of wool found at another Skye broch Dun Fiadhairt / Dun an Iardhard (MHG4827). They are in general found at substantial settlements such as brochs or Culduthel, Inverness, but also the multi-period beach sites such as Culbin Sands and Fendom Sands near Tain Some sites seem particularly rich in Roman finds, such as Culduthel in Inverness (MHG49950) and Keiss Harbour Broch, Caithness (MHG1659).
Bribes have been postulated for the reason behind Roman coins found at Birnie in Moray and it is possible a similar reason is behind the Roman coin hoards found at Belladrum (MHG56866), and the lost hoards from near Nairn (MHG6952) and Fort Augustus on the Great Glen (MHG2612). The large number of Roman finds, including raw materials for glass making, at Culduthel also may have a similar reason. Once in the Highlands, objects could have been passed from place to place.
Roman objects were clearly valued, with Samian ware vessels especially so in the Highlands, with examples from Caithness to Skye. We can imagine a bowl which when compared to native pottery would have been seen as special, brought out in special dining situations. Even when it was broken, the pieces were sometimes refashioned to other objects, such as a piece of Samian ware found at a ring-ditch roundhouse at Brackla, Nairnshire which had been reused as a pot lid (MHG7309).
This sherd, together with Roman finds from other Skye brochs, and caves at High Pasture Cave and Fiscavaig, shows people in the Iron Age on Skye were able to acquire and flaunt these exotic wares and objects in a common shared way across the Highlands.
The sherd, along with other finds from the excavation, are at Skye and Lochalsh Archive Centre.
Further information
Highland HER MHG5219
Hunter, Fraser 2007 Beyond the edge of the empire – Caledonians, Picts and Romans, Groam House Museum: Rosemarkie.