Cruisie lamp in Dunrobin Castle Museum
10 April 2021
News Type: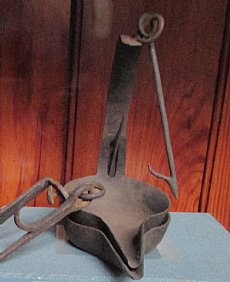 Cruisie (or crusie) lamps were formed of two boat-shaped iron bowls placed one above the other. Oil, often from fish, sea bird, seals or whales in coastal regions, dripped from the top bowl into the larger smaller one, lit by a wick placed in the spout. The result was a smoky, unsteady flame, with the wick needing constant attention and trimming. Notches on the projecting bar of the upper shell ensured that the oil stayed relatively level. The lamps were designed to be suspended on a wall, sometimes with elaborate wall spikes. This example is in Dunrobin Castle Museum, and is likely to be from Sutherland.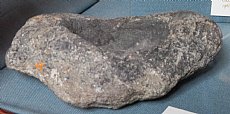 Cruisies are often dated to the 18th century, though examples are likely to be older and later. Also at Dunrobin Castle Museum is a stone mould for manufacturing the lamp bowls, suggesting that lamps would have been made by local blacksmiths. Some cruisie lamps are also known of copper and brass.
Although thought to originate in Scotland, these lamps were widespread in Scotland and further afield. They were replaced later by tin lamps, often produced by Highland Travellers, or the coming of electricity.
A number of superstitions revolved around cruisie lamps. A blue flame was said to foretell that the next day would be windy, while a green flame indicated a witch present. A spark meant that news was coming to the person in the direction the spark flew.
Further information
Goudie, Gilbert 1888 'The Crusie, or ancient oil lamp of Scotland', PSAS 22 (1887-1888), 70-78 (available online from http://journals.socantscot.org/index.php/psas/issue/view/151
Grant, I F 1961 Highland Folk Ways, Routledge and Kegan Paul: London.