Spinningdale Cotton Mill
02 December 2020
News Type: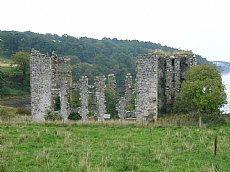 The ruinous remains of a large, four-storey, six-bay stone mill provide evidence of one of the few mechanised spinning mills in the Highlands (MHG10195; Hume 1977, 312; Alston 2006, 167). Built in 1792-1794 by local landowner and radical politician George Dempster of Skibo estate and his partner cotton magnate David Dale, the aim was to improve social and economic conditions in this area, as an alternative to clearing lands for sheep (Lang 1998). David Dale had been involved in the founding of the influential New Lanark mills in Lanarkshire, which had social issues embedded into the design (see National ScARF Case Study), and Dempster was very much part of this movement.
The location at Spinningdale allowed easy access to the sea, with the mill powered by water power from a nearby burn. Dempster froze rents until the mill prospered, intending to raise the standard of living of the tenants, providing security which was thought would result in efforts to improve their houses and lands, and stem emigration (Cooke 1995).
While linen production, albeit using smaller mills and home spinners, was widespread in the Highlands from the 18th century, the focus on cotton was unusual. Cotton had to be imported for the venture, with the intent to bring it from Glasgow, with finished products to be sold in Glasgow and London. The actual arrangements are unclear. Products produced included handkerchiefs and yarn (Cooke 1995).
The mill was large, four-storey, with each floor having two fireplaces. Dempster also apparently implemented a form of central heating, as he did at his home. The mill building cost almost £975 to build. Near the mill a number of buildings were also built, including a store, a weaving house for 12 looms, a weaving shed for 10 looms, washing house, barracks and a smithy. Equipment included two large carding engines, a picking engine, a billie engine, frames, cotton jennies and a mule for 144 spindles and a stretching frame. Altogether total costs were over £3000. Obtaining adequate finance was an issue (Cooke 1995; Lang 1998, 249ff).
Despite the large financial outlay, and access to cheap labour, the project was not successful. Attracting the local population to work regularly was difficult. It was also difficult to compete with prices further to the south. A fire gutted the building in 1806 and it was not rebuilt (Cooke 1995).
The site is important in providing evidence of an alternative social strategy to clearing landlords. Despite good intentions, the project like so many in the Highlands set up by incomers, failed to overcome local distrust, nor to financially compete with larger scale operations to the south. The building, however, is in increasing perilous condition, requiring conservation. Further documentary and survey work could shed more light on this interesting building, and ideally conserve what is there and provide a new use for this unique building for the Highlands.
Further information:
Highland HER MHG10195
Cooke, Anthony J 1995 'Cotton and the Scottish Highland Clearances – the development of Spinningdale 1791-1806', Textile History 26, 89-95.
Lang, Andrew M 1998 A Life of George Dempster, Edwin Mellen Press: Lewiston, NY and Lampeter, Wales.