Join us at the Highland Family Heritage Day - a day of fun for the whole family
20 September 2023
Archaeology for Communities in the Highlands (ARCH) is hosting a FREE Family Heritage Day on Saturday 23rd September 2023 at Dingwall Academy, Dingwall.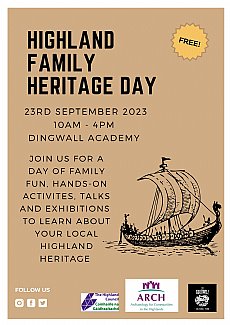 The event will mark the start of the Highland Archaeology Festival 2023 and will be a chance for you to get hands on with your local heritage.
Join us for a fascinating day of fun for all the family. Whether you want to dress up as real-life marauding Viking, learn an ancient craft or find out how to become an archaeologist, there will be something for everyone. This is a great chance to give young people their first taste of archaeology and, in particular, get them interested in Scotland's past.
For adults, there is an interesting talks programme aswell as a tour of the heritage resources in Dingwall Library and it may be a chance to reawaken a forgotten interest in history and your local area.
For a full list of talks and the activities taking place on the day please visit our Document Library.
We will also be joined by a good mixture of local heritage societies and orgnaisations who will all be dislaying information at their stalls. You will have the chance to talk to fellow heritage enthusiasts.
It promises to be a great day out, so drop in any time between 10am and 4pm.
The event is funded by Highland Council and the Glenwyvis Goodwill Cultural Fund.