Remembering Strathpeffer I

During winter 2010/2011 a group gathered at Strathpeffer Community Centre four mornings to remember the physical remains of Strathpeffer – buildings, sites, or monuments which were new, modified or no longer there. Using old maps, photographs (some more than a century old), a detailed sales prospectus from the mid 20th century, and memories spanning over 80 years, information about over 80 sites was gathered. Some pupils from the school joined us as well, looking on in some amazement at the excitement and enthusiasm in the room.
A report summarises the results of the meetings and is available in the Library of the website. The details have also been forwarded to the Highland Council Historic Environment Record (HER) where they will provide valuable new information about Strathpeffer's past (http://her.highland.gov.uk). It is clear that given more time even more information could have been gathered, and hopefully future projects will continue this work.
The sessions were organised by ARCH with funding provided by Generations Working Together: the Scottish Centre for Intergenerational Practice. Thanks also to the Highland Museum of Childhood for allowing us to see text panels from their 2009 'Hands Across the Sea' exhibition. But most of all thanks to the group who braved difficult weather to share their many memories and photographs.
Remembering Strathpeffer 2
In October and November 2013, five more sessions were held at Strathpeffer Community Centre, funded by High Life Highland. Details of more than 50 buildings and sites were collected. In addition, Alasdair Cameron and Susan Kruse of ARCH visited the P5/6 class to talk about wartime Easter Ross, and then the class visited the course, asking questions about wartime Strathpeffer to the participants.
The combined listing of sites, buildings and features discussed in both courses is available to download from the ARCH website Library in the Project Reports section.
Latest News...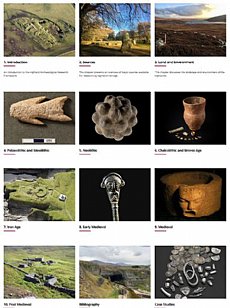 23/10/2023 - New ARCH Course: Highland Heritage - from Flint Scatters to Farmsteads
With the publication of the Highland Regional ScARF in 2022, an up-to-date overview of Hig... More >>
Site of the Month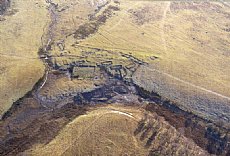 10/04/2021 - Easter Raitts township
Easter Raitts township Photo: Highland HER Although the Highlands is dotted with de... More >>
Find of the Month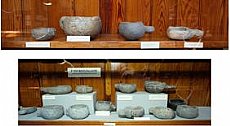 25/07/2022 - Steatite Vessels
These stone vessels, many with handles, were found at a variety of sites in Sutherland and... More >>
Sign Up to ARCH E-news