Exploring Strathpeffer Station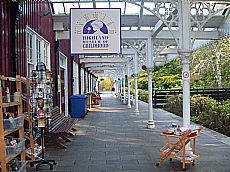 Strathpeffer's Victorian station is a real gem. It was designed by Murdoch Paterson, who was responsible for many other railway buildings including Dingwall station and the signalman's house at Fodderty Junction, as well as bridges such as the Culloden Viaduct. Repairs are needed to the canopy, and this was an opportunity to discover more about the station. The Highland Museum of Childhood which owns the building asked ARCH to help, to run sessions where people can research what is known, but also share memories of the station right up to recent times.
The station opened in 1885 when at last Strathpeffer had a branch line leading directly to the village. Before that visitors to the world-renowned spa had to take the train to Achterneed, because when the Kyle line was built Sir William Mackenzie of Coul would not allow the railway to go through Strathpeffer and pass near his house in Contin. As a result, from 1870 the station at Achterneed was called Strathpeffer, and was bussling with visitor, their luggage and freight. Once the station in Strathpeffer opened, the old station was renamed Achterneed.
The railway helped fuel the development of Strathpeffer. Between 1885 and World War I a number of large houses and hotels were built, including the grand Highland Hotel built by the Highland Railway Company itself to cater to the visitors. There was even an sleeper service from London to Strathpeffer opened in 1908. An weekly express train from Aviemore to Dingwall was launched in 1911, shaving two hours off the journey time.
The Spa never really recovered after World War I, and the station closed to passengers in 1946 and then altogether in 1951.
The group investigating the station gathered information and photographs about the station in his use. They also documented what it was used for after it closed, as a coal depot and upholstory shop in the 1950s and 1960s. By the 1970s the station had deteriorated. Fortunately it was renovated in 1979, and reopened as a craft and visitor centre, with a film and craft studios. In 1992 the Museum of Childhood opened, forming the main focus of the station.
The group will use information gathered during the sessions to write three panels to be erected on the platforms. They will also create a blog during the buildings work to describe work undertaken and some of the research encountered. Check it out!
Latest News...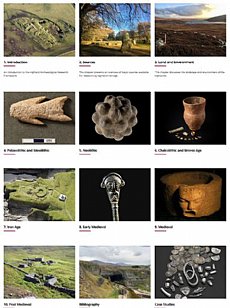 23/10/2023 - New ARCH Course: Highland Heritage - from Flint Scatters to Farmsteads
With the publication of the Highland Regional ScARF in 2022, an up-to-date overview of Hig... More >>
Site of the Month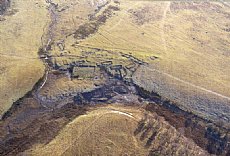 10/04/2021 - Easter Raitts township
Easter Raitts township Photo: Highland HER Although the Highlands is dotted with de... More >>
Find of the Month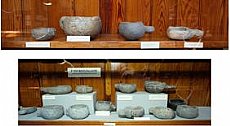 25/07/2022 - Steatite Vessels
These stone vessels, many with handles, were found at a variety of sites in Sutherland and... More >>
Sign Up to ARCH E-news