Strathdearn Community Timeline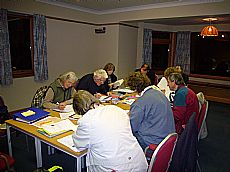 People have lived in Strathdearn since very early times. The plentiful water supply, natural forest and easily-worked soil provided the means for self-sufficient living, raising animals and crops. Evidence of these people survives today and in the autumn of 2010 an ARCH class began to research this heritage. This display illustrates some of the sites, buildings and finds from the parish of Moy, Tomatin and Dalarossie. You can find further information about these, and many other interesting remains, in the binder at Strathdearn Village Hall or by consulting Highland Council's Historic Environment Record at http://her.highland.gov.uk.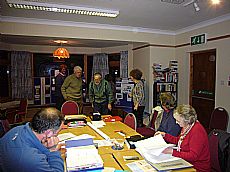 The group researched the following:
* 1. Stone Axeheads (Neolithic)
* 2. Dalarossie Cairn (Bronze Age)
* 2a. Enigmatic mounds and Cairns (Raigmore mount, Drumbain)
* 3. Raigmore barbed and tanged arrowhead (Bronze Age)
3.1 Cist burials (Bronze Age)
* 4. Round houses (Bronze Age – Iron Age)
* 5. Loch Moy crannogs (Iron Age)
* 6. Invereen Pictish Stone (Pictish)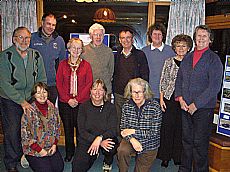 6.1 Placenames (Medieval onwards)
6.2 Castle Mattoch (Medieval?)
* 7. Churches (Medieval onwards)
* 8. Old Settlements (Post medieval)
8.1 Cruck buildings (Post medieval)
8.2 Mills (Post medieval)
8.3 Settlement and population (Post medieval)
* 9. Roads and Bridges (Post medieval)
9.1 Transport Inns (18th century onwards)
* 10. Limekilns (18th century onwards)
* 11. Schools (post medieval)
* 12. Railway (19th & 20th century)
* 13. Curling Pond (19th/20th century)
* 14. Shinty and other sports (19th/20th century)
* 15. Observation Post (20th century)
16. Houses in in the Strath & Tomatin village
17. Icehouses
18. Wolf Traps
19. Distilleries/illicit stills
20. Misc. general information
All numbers which have an asterix (*) were featured on the display.
Strathdearn Community Timeline was researched and prepared by:
Stan Beaumont, David Bonniface, Kathleen Bonniface, Sandra Day, Ann Glynne-Percy, Carol James, Donald MacAskill, Roger MacPherson, Katie Roden, Vivian Roden, Dick Sanger, Diana Usborne, Betty Watson and Bob Wilson.

Site of the Month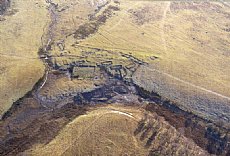 10/04/2021 - Easter Raitts township
Easter Raitts township Photo: Highland HER Although the Highlands is dotted with de... More >>
Find of the Month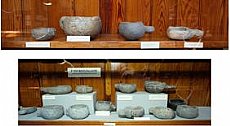 25/07/2022 - Steatite Vessels
These stone vessels, many with handles, were found at a variety of sites in Sutherland and... More >>
Sign Up to ARCH E-news