Kirkhill Heritage
In Spring 2022, over 30 people met in Kirkhill to explore the rich heritage of the parish. We began sharing memories, then turned to researching many of the sites, arefacts and stories which emerged. The group created a display and binder of resources, to be launched at the Open Days on Saturday and Sunday 18 & 19th June, 1-4pm at Kirkhill Community Centre.
The prehistoric past of the area has in many places been obliterated by agricultural improvements and forestry, but some key finds bear witness to occupation from the Neolithic times onwards.
Before Culloden much of the parish near the coast was marshy, but extraordinary drainage works took place in the later 1700s and first half of the 1800s. There are even sea flaps at some reclaimed land.
Many of the lairds were keen planters, and some special trees survive in a number of sites. The walks at Reelig Glen were laid out in the late 1700s and first half of the 1800s, with many of the bridges and grotto still visible. An elaborate lade was introduced in the 1800s, tapping the burn in one place, crossing over on a wooden aqueduct, and then leading to Reelig mill – with remnants of lade and aqueduct supports still to be seen.
The Lovat estates were taken over by the government after Culloden. New ventures were introduced to improve profitability, including three short-lived limekilns, two of which still survive. A later venture near Reelig was on a larger scale, involving a tramway to bring the limestone from the quarry to the three large kilns.
In Kirkhill itself the Wardlaw Mausoleum is well known. But less well known is Groam Cottage, an extremely rare example of an unmodernised 18th century cruck-framed dwelling. It went from unlisted to Grade A protection in record time!
The project was able to build on the work of the Kilmorack Heritage Association which undertook historical research in the early 2000s. In addition we were able to use the fantastic Lovat Estate maps, now available on the National Library of Scotland website. A rich collection of old photographs collected by Charlie Gair provided a wide-ranging archive of information spanning the 20th century.
Results will be submitted to the Highland Historic Environment Record over the summer, with the transcript featuring around 200 sites available from several websites – more details in later newsflashes.
This course was part of the FACET project funded by Historic Environment Scotland, ARCH and the Hugh Fraser Foundation.
Site of the Month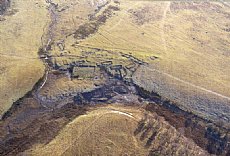 10/04/2021 - Easter Raitts township
Easter Raitts township Photo: Highland HER Although the Highlands is dotted with de... More >>
Find of the Month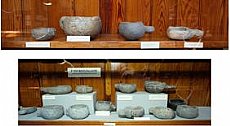 25/07/2022 - Steatite Vessels
These stone vessels, many with handles, were found at a variety of sites in Sutherland and... More >>
Sign Up to ARCH E-news