Heritage Along the Kyle
1. Kyle of Lochalsh to Strathcarron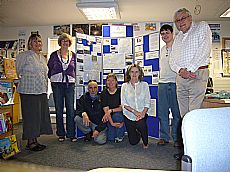 The Kyle railway line passes through a landscape which has been lived in for thousands of years, especially along the coastal fringes. Some of the evidence of the past is there to be seen today, but much has been altered or destroyed.
In spring 2010 an ARCH class researched the heritage along the route of the line between Kyle of Lochalsh to Strathcarron. Using maps supplied by Highland Council Archaeology Unit as a base, where each known site, building or feature is marked by a purple dot, a selection of places are featured in this display. Some are directly on the line, but others are within view, sometimes fleetingly, or located near to the line.
This area was settled from the earliest period, probably from the Mesolithic era (c. 8500-4000BC), when people used the rich resources of the coastal area, and they continued to do so for millennia afterwards. The rail line created its own heritage – and a means for people to live in and explore the region.
The display featured the following sites, buildings or finds:
1. How Kyleakin got its name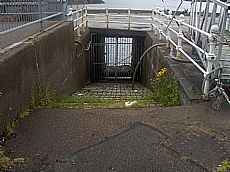 2. Kyle of Lochalsh anit-aircraft battery
3. Kyle Lighthouse on Eilean Ban
4. Cattle creep, Kyle station
5. Kyle of Lochalsh placename
6. Erbusaig
7. Duirinish WWII explosives store
8. Duirinish township
9. Plockton airstrip
10. Plockton bog butter
11. Plockton Bunkhouse built to look like signal building
12. Plockton Telford church and manse
13. Plockton open air preaching site
14. Plockton placename
15. Duncraig Castle
16. Cist burial at Port A' Mheirlich
17. Strome ferry pier
18. Strome Castle
19. Chambered cairn at Strath Ascaig
20. Wreck of the 'Pride of Strome' ferry
21. Remains of township at Strome Meanach
22. Bronze Age axehead found at Stromecarronach
23. Alleged boat shaped burial at Portnacrich
24. Avalanche shelter
25. Attadale House
26. Fish trap
27. Old kirk, Lochcarron
28. Lochcarron new church
29. Lithic scatter – Teanga Fhiadhaich
30. Achintee township
31. Possible site of St Maelrubha's Chapel
32. New Kelso estate and house
33. Strathcarron station
Further information can be found in binders at Lochcarron Library, Kyle of Lochalsh Library, Plockton Library and at the Friends of the Kyle Line Museum on Kyle station, or on Highland Council's Historic Environment Record website http://her.highland.gov.uk. The panels from the display are at the Friends of the Kyle Line Museum.
Heritage along the Kyle Line – Kyle to Strathcarron was researched & prepared by:
Peter Beck, Sheila Cudby, Donald Matheson, Alison Orr, Jean Stewart,
Mina Stewart, Paul Swan, Susanne Vinter and Barbara Welding

Site of the Month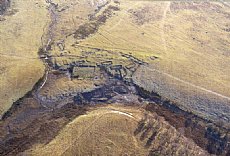 10/04/2021 - Easter Raitts township
Easter Raitts township Photo: Highland HER Although the Highlands is dotted with de... More >>
Find of the Month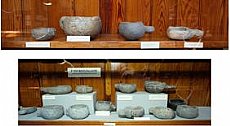 25/07/2022 - Steatite Vessels
These stone vessels, many with handles, were found at a variety of sites in Sutherland and... More >>
Sign Up to ARCH E-news