Heritage Along the Kyle Line:
Lochluichart to Dingwall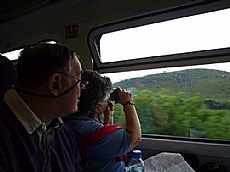 The Kyle railway line passes through a landscape which has been lived in for thousands of years, especially along the coastal fringes. Some of the evidence of the past is there to be seen today, but much has been altered or destroyed.
In spring 2011 an ARCH class researched the heritage along the route of the line between Lochluichart and Dingwall. Using maps supplied by Highland Council Archaeology Unit as a base, where each known site, building or feature is marked by a purple dot, a selection of places are featured in this display. Some are directly on the line, but others are within view, sometimes fleetingly, or located near to the line.
This area was settled from at least the Neolithic period (c. 4000-2500BC), when people used the rich resources of the coastal area, and they continued to do so for millennia afterwards. The rail line created its own heritage – and a means for people to live in and explore the region.
The group looked at:
Lochluichart to Garve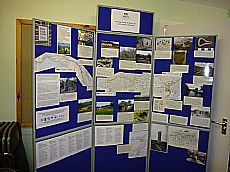 1. Mossford Power Station and Hydro developments
Garve to Dingwall
2. Garve Pillboxes
3. Loch Garve placename
4. Rogie Crofting township
5. Glensgiach house & turbine house
6. Raven Rock rock crusher
7. Achterneed Station
8. Knockfarrel hillfort
9. St John Baptist Holy Well
10. Heights cup marked stone
11. Fodderty Cist burials
12. Farming in the Strath
13. WWII Munitions Dump and Guard House
14. Signalman's House at the Strathpeffer branch line junction
15. Heights of Brae Bronze Age gold hoard
16. Bridgend Mill
17. Dingwall placename
18. Dingwall Canal
19. Dingwall Pictish Stone
20. Dingwall Jaw Harp
21. MacDonald Monument
22. Dingwall Station
23. Early sea levels in the Peffery valley
24. Misc other sites and information

Further information can be found in binders at Dingwall Library, Dingwall Museum, at the Friends of the Kyle Line Museum on Kyle station, or on Highland Council's Historic Environment Record website http://her.highland.gov.uk.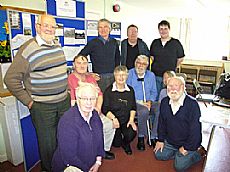 Heritage along the Kyle Line – Lochluichart to Dingwall was researched and prepared by:
Margaret Aitchison, Peter Beck, Alasdair Cameron, David Cossar, Joy Cossar, Alex Houston, Tom McCourt, Pat MacLeod, Kenneth McMillan, Donald Matheson, Fiona Newton and John Ramsay, led by Susan Kruse of ARCH

Site of the Month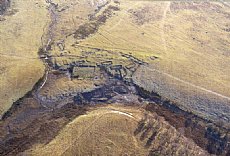 10/04/2021 - Easter Raitts township
Easter Raitts township Photo: Highland HER Although the Highlands is dotted with de... More >>
Find of the Month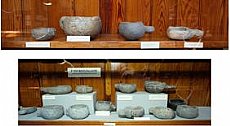 25/07/2022 - Steatite Vessels
These stone vessels, many with handles, were found at a variety of sites in Sutherland and... More >>
Sign Up to ARCH E-news