Display the Past: Behind the scenes at Groam House and the National Museums
Groam House Museum in Rosemarkie is well known for its annual exhibitions on Pictish and local history themes. For 2010/11 an innovative approach was adopted as the museum partnered with ARCH to create and display a new exhibition about a little known local GP and antiquary, Dr William Maclean.
The exhibition was researched, designed and put together by local people participating in our 'Display the Past: Behind the scenes at the museum' courses. Together, local community members learned about and gained hands on experience in many of the practical aspects of working in a museum. The eight session course also included a field trip to the National Museum's collection stores in Edinburgh.
The exhibition, entitled "Dr. William MacLean – a forgotten collector; the man, his sites and finds" opened on the 1st May and was on display until early 2011. The objects displayed form just part of The Maclean Collection, an impressive and extensive assembly of objects that is normally held in storage by the National Museum of Scotland, Edinburgh. Many of the exhibition items have never been on show to the public before this display was put together.
The display of objects included ancient stone weapons, tools and implements collected from chance discoveries across the Black Isle and beyond. There were also the finds recovered during Maclean's excavation of Caird's Cave, near Rosemarkie from 1907 - 1913. The star object from that 'cave dig' is a delicately and deftly crafted bone pin with three precious amber insets, thought to date to the 8th – 9th centuries AD. It is the only known example of its kind in Scotland!
The interpretation materials for ARCH's Display the Past Programme, researching, designing, composing and putting together an exhibition of items from the collection of Highland Antiquary Dr William MacLean are now on the Highland Council's Historic Environment Record website:
CLICK HERE to view the records for Dr Maclean, a forgotten collector: the man, his sites and his finds on the Highland Council HER.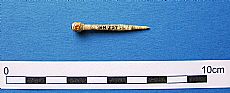 The bone pin inset with amber and believed to be of Later Iron Age to Early Medieval date (Image Copyright T.Cowie, NMS)
Site of the Month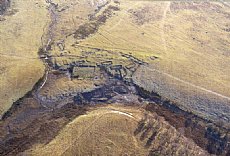 10/04/2021 - Easter Raitts township
Easter Raitts township Photo: Highland HER Although the Highlands is dotted with de... More >>
Find of the Month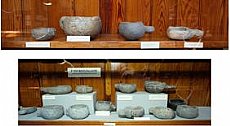 25/07/2022 - Steatite Vessels
These stone vessels, many with handles, were found at a variety of sites in Sutherland and... More >>
Sign Up to ARCH E-news