Heritage Along the Kyle Line: Strathcarron to Lochluichart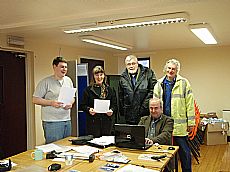 The Kyle railway line passes through a landscape which has been lived in for thousands of years even although much of this section is quite remote by modern standards. Some of the evidence of the past is there to be seen today, but much has been altered or destroyed.
In late 2010 an ARCH class researched the heritage along the route of the line between Strathcarron and Lochluichart while based in Achnasheen. Using maps supplied by Highland Council Archaeology Unit as a base, each known site, building or feature was marked by a dot. A selection of the most interesting places are featured in a temporary display. Some are directly on the line, but others are within view of the train as it passes through the region.
The display featured:
1. Trackway through Glen Carron to New Kelso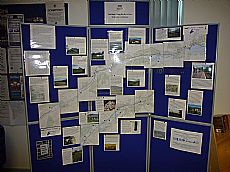 2. Coulags Bridge
3. The old school & schoolhouse at Balnacra
4. Loch Dughaill craggog
5. Bronze Age flanged axehead from the shore of Loch Dughaill
6. Achnashellach Lodge
7. Craig township
8. Aircraft crash site near Loan
9. Luib
10. Ledgowan Lodge Hotel
11. Achnasheen Station Hotel
12. Achnasheen WWII Checkpoint and Home Guard Hut
13. Achnasheen underground bunker
14. Camashie
15. Croft at Knockban
16. Achanalt
17. Badinluchie
18. Military Road, Contin-Poolewe
19. Lochluichart Church
20. The Third Lochluichart Station
21. Loch Luichart, Mossford Power Station
Farming between Lochluichart to Strathcarron
All the exhibition panels and further information can be found at the Friends of the Kyle Line Museum on Kyle station. Further information is also available at the Museum or from Highland Council's Historic Environment Record website http://her.highland.gov.uk.
Heritage Along the Kyle Line Strathcarron to Lochluichart was researched and prepared by:
Peter Beck, Alasdair Cameron, Alegria Gunner, Laurence Gunner, Alex Houston, Hazel Keiro, Donald Matheson, and Pam Morrison, led by Janet Hooper. Thanks also to Paul Swan.
Site of the Month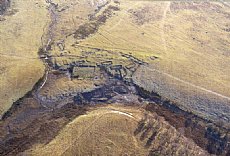 10/04/2021 - Easter Raitts township
Easter Raitts township Photo: Highland HER Although the Highlands is dotted with de... More >>
Find of the Month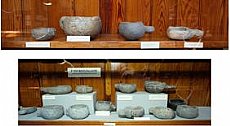 25/07/2022 - Steatite Vessels
These stone vessels, many with handles, were found at a variety of sites in Sutherland and... More >>
Sign Up to ARCH E-news