Day 3 - Anyone lost a button?
Posted by Kirsty - 17:54 on 16 July 2012
Today on the hill trench (Trench 3) was a day for cleaning the loose dirt off with trowels, to show the stones underneath more clearly for photos. Small pieces of charcoal were found across the middle section (where the anomaly was found by the geophysics indicating a burned area) and more stones at the North side were uncovered, showing a large rocky area. Planning (drawings of the trench which show where things like stones, etc. are within the trench) has been started here today. The roots are getting in the way of everything, but revenge is being had with the secateurs and as no trees have yet to lean over threateningly, it seems to be doing the job.
In the field trench (Trench 4) several more inches of soil was taken off with mattocks to find a more orangey context below, annoyingly the gradient seems to be increasing, meaning that while only a few inches were needed at the top of the trench, lower down a lot more was needed to be taken off. A copper alloy button was found early on in the day by Fergus, who was with us for the morning, it is imagined that the button may have been worn by a labourer as he worked on the field. Quite a few pieces of glass were found (one by me), as well as a piece of slag (a piece of iron rich metal left over from the smithing process) and a long piece of iron which may be a handmade nail or a tine from a piece of agricultural equipment.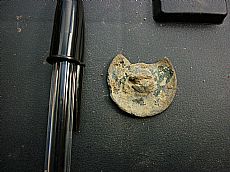 A third trench has been dug, at the foot of the hill, where a mysterious rocky area was discovered last year. While the terram left there under the turf means that much less needs to be dug up again, it's still a lengthy process. It is hoped that this year we can find out why there were so many stones and how deep they might go.
---
Add your comment below
Recent Blog Articles
Monthly Blog Archive
Sign Up to ARCH E-news