Day 11 - Sun, Sun, Sun
Posted by Catriona - 21:51 on 26 July 2012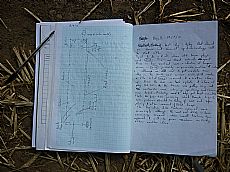 Ideal dig weather, dry, some sunshine and a slight breeze to keep the midges and flies at bay. Ten people on site including Lachlan and Lynne. Two visitors appeared over lunch time and were shown round the trenches and had progress explained to them by Lynne and Lachlan.
We had some lovely goodies for snacks, chocolate doughnuts and apple turnovers. Karen provided us with Jack Daniel's fudge – YUMMY!

Trench 1 – Some work done there in the afternoon. Soil very heavy almost claggy.

Trench 3 – A lot of work done by the main team. Evidence of charcoal layer appearing. David made some bone discoveries.
A Bone Found Today
Digging in the sun
Trench 4 – Further excavation of ditch and roadway boundaries. Some small pieces of coal were found. Kirsty and Gary were involved in measuring and drawing work. Best place to work today – in the sunshine.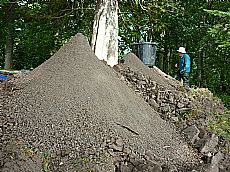 A mighty mountain range...oh no wait, our spoil heap

Alpha and Susan visited in the afternoon to inspect progress.
A good day was had by all.

---
Add your comment below
Recent Blog Articles
Monthly Blog Archive
Sign Up to ARCH E-news