Day 10 - Digging Deep!
Posted by Allan - 21:41 on 25 July 2012
Wednesday turned out to be a super day for digging. The wind had dropped and the sun occasionally popped through, just enough to keep our spirits up but not enough to make soil description difficult!
Our small team of 8 people were quickly at work intent on trying to unravel more mysteries from the Foulis nexus. As usual we had our quota of (very) interested members of the public who were warmly welcomed and given the obligatory tour. An interesting conversation developed at morning tea-break when Lachlan arrived with his parent's axe. Each archaeological tool was reviewed with a view to how effective a weapon it would be in hand to hand combat. The mattock was the general weapon of choice!
No further work was done today on Trench 1. Trench 3 on top of the mound was opened further with a sondage being lined off and work started at the east end of the trench. By the end of the day a section of the sondage had been dug to a depth of 20-30 cms revealing even darker soil than had been seen previously. The soil appeared to have been impregnated with charcoal and it would appear that many burning events must have taken place on this location to have created soil of this nature. There were far fewer stones present at this depth than there had been in the layers above. The sondage will be opened to its full extent tomorrow and soil samples taken for possible future carbon dating.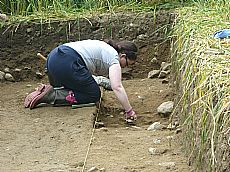 In Trench 3 our 'road' and associated ditches slowly became more apparent. At one point in the day we thought we had double ditches on both sides of the road-way. However further excavation proved one ditch on the north side of the road to have been illusory. The ditches are proving to be of considerable width approximately 1mt. wide, partially filled with stone a mix of cobbles and broken sharp stone, with a depth of around 10 - 15 cms. Work is continuing to ensure that we have actually 'bottomed out' our ditches.
The bridge abutments were examined in order to compare the width of the bridge surface with the width of the road which has been excavated. The bridge was found to be approximately 3.8 mts wide while the road carriageway is approximately 2.9 mts wide (excluding ditches).
Roll on tomorrow !

---
Add your comment below
Recent Blog Articles
Monthly Blog Archive
Sign Up to ARCH E-news