Day 13 - Drawn Again
Posted by Trish - 21:55 on 28 July 2012
Today was another big learning day for me down at the dig. The lesson today was a practical session in drawing. This involved setting up a string right along the trench edge and measuring points above and below. These points got marked on a drawing and we could then join them up to show the different layers or 'contexts'. Some of these were very big going all the way from one end of the trench to the other. Lynne was using a metal metre grid divided into 20cm squares to draw the bottom of the trench. This seems to make life much easier and Lynne was having a nice time.
We also learned about vertical troweling to help bring the colours out on the trench sides.
The day passed very quickly but we managed to finish all the drawing in trench 4.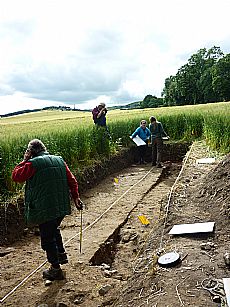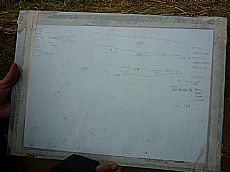 Meanwhile on the mound a merry time was had taking samples of all the dark layers in the deeper side. There was also a hunt on for charcoal which was put very carefully into little bits of tin foil and then into bags. These will be used in our barbeque tomorrow... only joking, they will be used for radio carbon dating. This will let us know when the things in this layer were burned and when the mound was being used.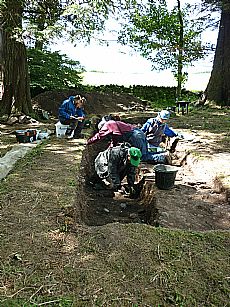 The trench edge was cleaned here too and the drawing was started. Once this is done it will be time to fill in the trench again.
It will be a shame to finish as our little camp is such a lovely place to be now it's all worn in.

Your Comments
Comment by carol at 19:45 on 29 July 2012.
wish I could be there for the end of the dig.Been busy in Sweden (and Finland,but that's another story!)
---
Add your comment below
Recent Blog Articles
Monthly Blog Archive
Sign Up to ARCH E-news