Day 12 - Time Team Time
Posted by Lynne - 20:30 on 27 July 2012
Here we go. The final three days commence. Luckily we have had a great team working hard to get the final excavations and recording underway. Ok so we have had a slight head start on the traditional Time Team 3 days, but the frenzy is much the same!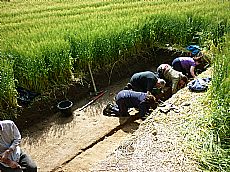 Working hard in Trench 4
We have taken off the final layers of our sondage in Trench 3, revealing a layer of black soil, charcoal, large stones and lots of animal bone. This suggests the mound was a site of repeated burning and animal butchery. But when? We shall have to be patient to find out, today the trench has been cleaned up, photographed and drawn, so tomorrow we can take samples of the deposits in the hope of getting some radio-carbon dates from the burnt material.
Jaw bone found in Trench 3 The sondage in Trench 3
In Trench 4 they have pulled out all the stops to get the last contexts excavated from the ditches and road surface. One of the main aims of this trench was to find some dating evidence for this roadway, and we may have discovered this in the form of a piece of salt-glazed stoneware pottery, found today in the lower deposits where the western ditch meets the road. This trench has also been cleaned and photographed, ready for drawing tomorrow thanks to everyone's efforts.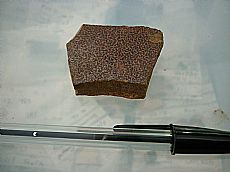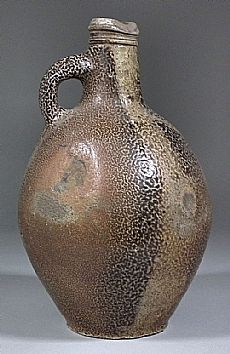 Above: Pottery found in Road-side ditch. Right: Time Team style reconstruction
The weather was both a blessing and a curse today, the sunshine kept our spirits up but made the contexts almost impossible to see, whilst the rain had many of us running for cover but moistened the trenches beautifully before our photographs. Consequently we have some great shots which will record for years to come our findings at Foulis.
And finally, as well as a visit from the Munro's, we were joined by a rather fine frog, who dropped in to Trench 4 to review our progress. Apparently satisfied she was escorted to the burn, where she will no doubt spread the word amongst the amphibious population.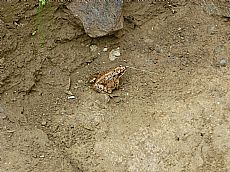 ---
Add your comment below
Recent Blog Articles
Monthly Blog Archive
Sign Up to ARCH E-news