Day 9 – Blown Away
Posted by Lachlan Mckeggie - 20:16 on 23 July 2012
After yesterdays rush of around 50 visitors (thank you to all those who came along) today a kind of calm returned to the Foulis dig. However, while our small and dedicated team got down to work it was not the crowds but the weather that was making a lot of noise. The wind on site was very strong, not so bad in the field but on the mound the spoil was flying out of the trench.
Work continued on trench 1 opened up again from last year. It has now had many of its stones removed and is almost ready for a photo. This trench is now approaching completion and will probably be done soon.
On the mound, in the wind, we continued taking out a deep band of mottled brown and black with lots of stones. This layer contains lots of charcoal and is almost certainly what produced the strong positive reading on our geophysics. As this layer appears to be continuing down and time is running out it may be time to crack out the mattocks again on Wednesday.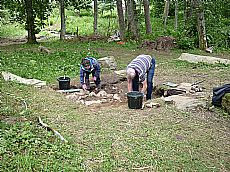 Trench 1
Meanwhile work in the field trench (Trench 4) continues to tell an interesting story. The two ditches marking the sides of the road now appear to have become three ditches. Just on the inside of the east ditch another much fainter ditch appears to run parallel to it. This has been empted in a slot and now shows a lovely double dip. This third ditch probably belongs to a separate phase of road but sadly whoever dug the two ditches carefully avoided the other so it's not possible to say which came first. It does give us a hint though that this road was used for a good length of time as a new ditch was required at some point. At the other end of the trench the west ditch is proving more elusive. Although a liner feature is certainly present its sides have been a little 'messed up' by other smaller features. These may be a result of later ploughing or small furry creatures.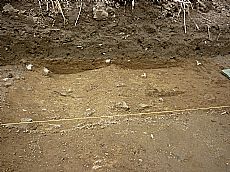 Two Ditches?
The last word today must go to say a thank you to two of our excavators. Bob Herbert who had his last day today and Esme who has been doing a great job on frog and worm watch. Thanks guys.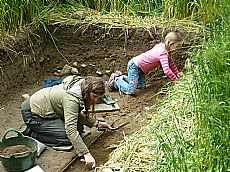 Lynne and Esme working hard

Your Comments
Comment by simon at 20:11 on 24 July 2012.
So good to read about all the hard work being done in my absence. Get that mattocking done asap!
Comment by Carol at 19:04 on 25 July 2012.
Greetings from Sweden.enjoying keeping up with whats going on at the dig.hope the sun shines for you!
---
Add your comment below
Recent Blog Articles
Monthly Blog Archive
Sign Up to ARCH E-news