Day 1 - Off to a flying start!
Posted by Lachlan - 17:20 on 14 July 2012
Delve 2012 got off to a fantastic start today - our small but dedicated team of excavators started the day with a short tour of the site and soon got stuck in to the first trench. By lunch time we had removed the turf from our trench across the top of the mound, where we are hoping to identify an interesting anomaly from the geophysics. Meanwhile an elite team of organisers got our toolboxes and paperwork in order.
Hard at work (proudly sponsored by NoSAS)
After lunch we got out the mattocks and started to remove a spit of top-soil. As we worked a rumbling was heard in the trees... No, not a thunderstorm but the arrival of a big, yellow trowel (or digger). Courtesy of the lovely Munro's it was soon at work giving us a helping hand getting started in the field trench where we hope to investigate an old roadway. By the time I returned from guiding the digger our mound trench was starting to reveal an interesting feature: a line of large stones close to the surface running across the trench.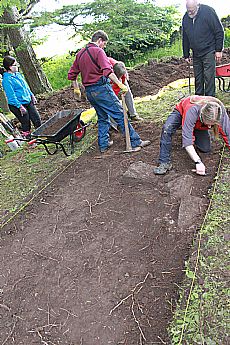 The new feature
At this stage it is impossible to say what these might represent, but our hard-working team head home at the end of the day satisfied. Two trenches well under way and a feature to get cracking on tomorrow!
Your Comments
Comment by David Anderson at 18:54 on 14 July 2012.
Way to go! Onwards and downwards, and congratulations on a good start!
---
Add your comment below
Recent Blog Articles
Monthly Blog Archive
Sign Up to ARCH E-news