Day 4 - Just a bit potty
Posted by Bob - 20:19 on 17 July 2012
Life in the trenches goes on. Help was on hand today with an increase of bodies and progress was made across the site. The weather remains on our side. This makes outdoor life enjoyable.

Trench 1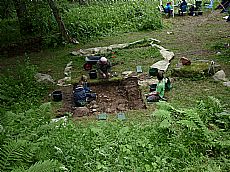 A section of this trench, which was started last year, was reopened with the help of some of the younger members on site. Turf and a protective membrane were removed revealing the collection of stone that had been revealed last year. The task was then to clean the area ready to be photographed and planned, which are tasked for tomorrow.

Trench 3
Yesterday afternoon planning of this trench was started. Drawing lots of small ro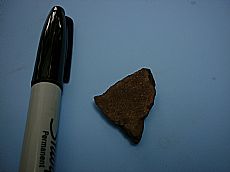 cks is not the best introduction to planning. But a good effort was made and the planning along with height indicators were finished by lunch time. Drawings were labelled and the planners names added so we know who to blame when they don't marry up. Highly unlikely as everything was checked and doubled checked. An EDM was set up, I'll not say by whom but the instruction book was to the fore and lots of discussions. As on any site all was OK in the end. Our star find was from this trench - a piece of unglazed pottery possibly dating from the dark ages.

Trench 4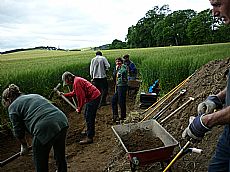 Plenty of hard work for the farmers: the trench is in a barley field. All of the plough soil has been removed. Much mattocking, shovelling and wheelbarrow pushing as the spoil heap reaches higher and higher. Large stones were exposed at the western end of the trench. It appears the long awaited road surface has been found. If this is the case then lots of cleaning, photography and planning will be in order tomorrow.
---
Add your comment below
Recent Blog Articles
Monthly Blog Archive
Sign Up to ARCH E-news