Day 6 - A new perspective
Posted by Trish - 22:34 on 20 July 2012
Well I now know what an archaeological dig is, how it's run and what a volunteer does.
I spent most of the time in trench 3 troweling soil, of various tones of brown into a wee shovel and then tipping it into a bucket and when the bucket was full taking it to the spoil heap, sieving it to see if I had missed any treasures – I hadn't but did find a wee bit of bone. I was shown how to record this and then had to show someone else how to do the same. I did have a look into trench 4 where they were all sitting on the spoil heap and told me that they were doing paper work.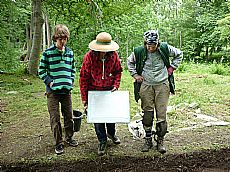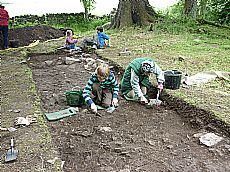 We had a mission to try and get water running to the tap from the burn, down the alkethene pipe, unfortunately our siphoning methods didn't work. But I can say that I had a most enjoyable day, learnt a lot and had fun and tea breaks with dough nuts.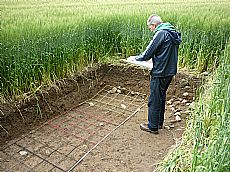 (We were doing some planning too, honest!)

Your Comments
Comment by Mish ;P at 21:17 on 23 July 2012.
Well done to Lachlan's mum for getting involved :)
---
Add your comment below
Recent Blog Articles
Monthly Blog Archive
Sign Up to ARCH E-news