Day 7 - YAKity Yac
Posted by Karen - 21:50 on 21 July 2012
A memorable day in the trenches. The Young Archaeologists Club (YAKs) visited the Old Archaeologists Club (OAKs) ie those already on site and were given a tour of the Foulis Mound site by Lachlan. Susan and George accompanied them. The Yaks were given the opportunity to dig, sieve, collect soil samples, draw the bridge abutments, practice flotation and take photographs.
Trench 1: Kirsty is busy drawing a plan of Trench 1, the distinctive tumble of large stones at the East end of the mound.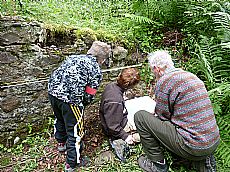 Trench 3: Carol and Malcolm continued excavating at the top of the mound in Trench 3. An exposed layer across the trench appears now to be a single context with lots of small stones and charcoal flecks and the tumble of large stones at the Southern end a distinct separate context.Finds included animal teeth and vertebrae (for which Carol was awarded the "find of the day badge". Slag was also found – interesting as slag appeared on top of the mound during the 2011 excavation.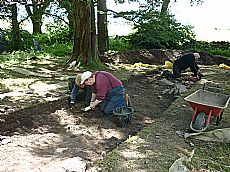 Trench 4: Bob and Karen were based in the field in Trench 4 Bob focusing on the central ditch feature which now appears to be surprisingly shallow. Karen worked on the tumble of stones at the Western end. The Young Archaeologists also assisted in the search for a ditch feature in this area. A piece of 20th century pot base revealed itself. Soil samples were taken from Trench 4.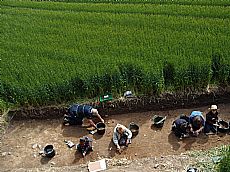 Other notable events: Lynne served us up with delicious Brownies which Lachlan said he made, however we did not believe him. Bob gave Karen a leaf trowel thanks Bob! Tomorrow is open day so we are preparing the site for visitors. We all hope that the sun and some of our friends and mentors from last year turn up - especially Kathy and Cait of whom everyone speaks with great affection.
Sound bite of the day "Reveal, don't remove" – Lachlan.

Your Comments
Comment by Mikki Hannay at 22:50 on 21 July 2012.
Lachlan really does make good brownies. He made some for us in NZ not long ago !
Comment by Liam Shand at 23:46 on 21 July 2012.
A big thank you to all. Craig, my 9 year old had a great day.
Comment by Cathy at 11:34 on 22 July 2012.
Hi guys,
Sorry I won't make the open day - am away at the moment. Hope you have a great day and the sun shines for the rest of the dig :) Cathy
Comment by Mish ;P at 21:19 on 23 July 2012.
I'll swap you chocolate cake for brownies :)
---
Add your comment below
Recent Blog Articles
Monthly Blog Archive
Sign Up to ARCH E-news