Day 8 - The Open Day
Posted by Simon - 21:02 on 22 July 2012
The Open day was upon us before we knew it. A specially made notice by the roadside attracted several dozen eager Mound Hounds to our site. All arrived safely and avoided getting bogged down in the mud en route. Parties were taken around the various trenches mainly by Lachlan and given many insights into varieties of subsoil and their fifty shades of brown. As a result of the (most welcome) visitors not as much work was done in the trenches as perhaps would have been done on a normal digging day.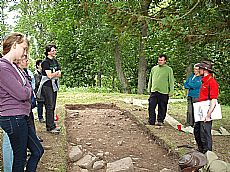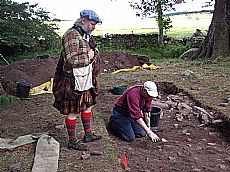 Chief attraction was of course the Mound, but not far behind was our resident Jacobite Ian Devenney who demonstrated the correct and most effective use of claymore, broadsword and Lochaber axe to a capacity crowd. He also had a collection of coins, medals and military bits and pieces. His military buttons from Prestonpans made an interesting comparison with our button from Trench 4.
Eric, the metal detectorist, also brought along a collection of 'objets trouves', mainly coins. Many came from local fields with the consent of the landowner.
Slag pieces were the main finds of the day, from both Trenches 3 & 4. Theories abound as to its sources. It could mean ironworking was happening in situ. On the Mound it's more likely to have been carried there.
Still some hiccups with the Total Station, but the discrepancy has now been reduced to 20cm thanks to Malcolm's deep reading of the manual. But wildlife abounds on the site: sightings of a mole and a frog in the barley crop. Also some mice were planted in the spoil heaps. Explanation in tomorrow's blog.

Your Comments
Comment by Mish ;P at 21:22 on 23 July 2012.
I enjoyed your '50 shades of brown' reference lol
---
Add your comment below
Recent Blog Articles
Monthly Blog Archive
Sign Up to ARCH E-news